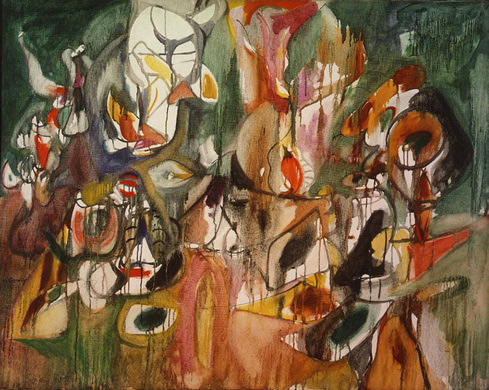 A review of the
Arshile Gorky
retrospective at MoCA Grand Ave. in Los Angeles:
Memories, the legacy of forms, the biological essence of hand-work, a feeling of anxiety, obscuration and incompleteness, sexual formalism, Jungian daydreams of light, the everyday as alien, ritual & psychological mapping, the tense geography of paint, the latency of the psyche, draftsmanship and the annotation of art history, evocation of the resounding chime of the past, inner depths and archetypal ambiences, breathing, infusion and sublimation of art history, the noise of art history, nonsense groans, compositional space solutions, re-consideration of revelations, visual impressionist poetics, diagrammatical impulses, schematization of guilt, resonance fields of the emotional landscape, intent recombination of observation, precision choices of formal fields, My Blood Valentine, invented formal language, sex organs, the sun, holes, quick oscillations of the uncanny horrific and the uncanny effervescent, illumination and shadow, guilt and tradition, memory's growing veil, enacting the partially glimpsed, the intuited definitions of the hidden human, private color as controller, the harshness of the once-removed sexual being, progenitor-inspector.
(On view now until September 20th, 2010 at MoCA - 250 S. Grand Ave. Los Angeles CA.
http://www.moca.org
).